Demographic change is observable in all areas – pharmacies are also finding it increasingly difficult to fill vacancies with pharmacists.
We fill your vacancies!
TALENTBRÜCKE GmbH & Co. KG and the International Formation Center Madrid in cooperation with Migasa Apothekenkooperation and the German Chamber of Commerce for Spain (AHK) find the right employees for your pharmacy. To approach the candidates, we make use of the expertise of our network throughout Spain. Many successful projects since 2013 prove our approach right.
Pharmacists from Spain complete a well-founded course of study which makes it easier for them to obtain their license to practice pharmaceutics in Germany.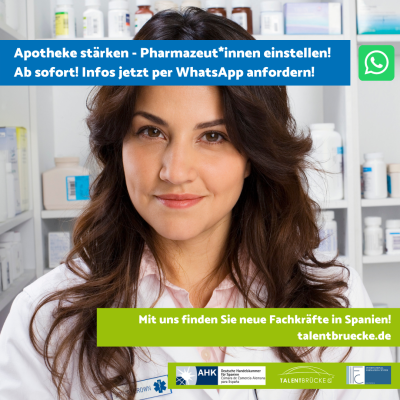 Well-founded selection process
Through an established selection process, we select candidates who perfectly fit the project. In addition to professional suitability, special emphasis is placed on the applicants' personality traits.
Language and preparation class
The next step for the participants is a language and preparation course at the International Formation Center. Over a period of 6 months, they are prepared for their new phase in life.
The course consists of 800 teaching units and teaches language level B2. All participants will take a telc examination at the end of the course.
In addition to teaching language skills, cultural preparation takes place. All language content is adapted to suit everyday life and job-related requirements.
Internship and License to practice
After the pharmacists have completed the language and preparatory course, they travel to Germany and start their paid internship in your pharmacy.
During working hours, the applications are prepared for the professional language examination. Once they have passed, the pharmacists can be employed as pharmacists without restriction.
We will be happy to support you in your search for appropriate language courses! An online language course organised by us is possible as well.
If a pharmacist quits during the internship or in the first year after obtaining their licence to practise, you will receive a full or pro-rata refund of the placement fee paid.
Frequently asked questions – Pharmacists
Do foreign pharmacists receive a licence to practise in Germany?
Pharmacists who have studied in a European country are generally eligible for recognition. In Germany, the actual recognition and granting of the licence to practise is regulated by the federal states. As a rule, pharmacists must pass a technical language examination around level C1.
Until this level is reached, the pharmacists can be employed as guest students. We will be happy to help you find a suitable language course that optimally prepares the pharmacists.
Can I oblige the pharmacists to stay in my pharmacy?
No, you can't. No one can guarantee that the employees will stay with you. However, the preselection for our projects increases the probability. We are happy to advise you on integration and intercultural issues. Close support is a matter of course for us.
What do I have to pay the pharmacists during their recognition phase?
You pay the pharmacists the current statutory minimum wage on an agreed number of hours that counts as working time. The additional hours are reserved for language courses and self-study.
How do the pharmacists continue to learn German?
The pharmacists continue to attend German classes during the recognition phase. These can either be on-site courses or online courses. It is very important that the courses are subject-specific. Pharmacists do not have to pass a C1 exam, but a subject-specific language exam. We will be happy to advise you on finding suitable classes.
Who takes care of the licence applications?
We accompany the recognition process from A to Z. This starts with collecting all the necessary documents from the applicants and preparing them so that they can be used for recognition in Germany.
Recognition and granting of the licence to practise work differently in each federal state. Please feel free to ask us about this!
What happens if the pharmacists resign after receiving their license?
If the pharmacists terminate their employment within one year of their licence to practise, you will receive a partial refund of the placement fee paid. The amount depends on the period of notice. We will be happy to discuss this with you.
Pharmacists – Your contact person