Are you looking for a stable job in your dream profession? Then you should get in touch with us. We will find the right placement for you.
There is a great shortage of skilled workers in Germany – in various sectors. Pharmacists are also urgently needed.
TALENTBRÜCKE GmbH & Co. KG and the International Formation Center Madrid in cooperation with Migasa Apothekenkooperation and the German Chamber of Commerce for Spain (AHK) find the right employees for your pharmacy. We make use of the expertise of our network throughout Spain. Many successful projects since 2013 prove our approach right.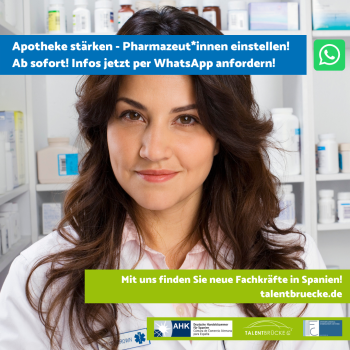 Working as a pharmacist in Germany
Since 2013, we have already been able to place well over 100 pharmacists – in pharmacies all over Germany!
What we offer?
A free language course in Madrid that will get you up to B2 level
Special preparation for life in Germany
We suggest good employers and you choose who you would like to talk to
We help you with the recognition of your education in Germany
Of course, we are always available to answer your questions and help you to settle in Germany.
What do you need to bring with you?
A degree in pharmacy
Willingness to come to Madrid to learn German
The will to go abroad!
Just fill out our form with your CV
and we will contact you!