The shortage of skilled labour is also omnipresent in the IT environment. Many companies are finding it difficult to adequately fill vacancies. In addition, skilled workers are constantly being headhunted.
We will find the right skilled labour for you! In Spain, Italy and outside the EU!
Programmers
Web designers
Developers
System administrators
Consultants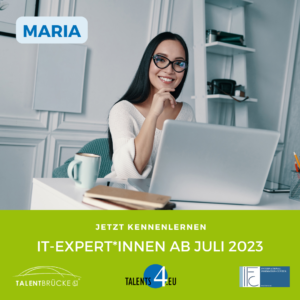 IT professionals from Spain, Italy and other countries
Together with our partner camü consulting we analyse your needs and find your future employees! Benefit from 20 years of experience in recruiting!
Through contacts in various universities in Madrid and networks throughout Spain as well as partners all over the world, we are able to reach a large number of interested parties in a very short time.
The training and degree programmes in Spain, for example, are of a very high standard. As a rule, graduates already speak English very well. They learn German with us!
Selection process increases probability of success
A programme developed by TALENTBRÜCKE GmbH & Co. CO. KG, candidates are tested. In addition to professional qualities, special attention is paid to personality traits.
Of course, future employers can be present in person or online at any point in the selection process. The aim of the selection process is to find out which of the applicants will actually be successful in Germany.
The expectations of the TALENTBRÜCKE and International Formation Centre staff regarding the quality of the participants have often been exceeded in past projects.
Translation of all documents
Job adverts, applications, certificates and other documents are translated by us – where necessary by sworn translators.
Language and preparation course
The next step for the participants is a language and preparation course at the International Formation Centre. Over a period of 4-6 months, they are prepared for their new phase in life.
The course comprises 550 to 800 teaching units and teaches language level B1 or B2. All participants will take a telc exam at the end of the course.
In addition to teaching language skills, cultural preparation will also take place. All language content will be adapted to suit everyday life and job-related requirements.
Support for the recognition of professional and academic qualifications
On request, TALENTBRÜCKE will take care of all the necessary formalities for the recognition of foreign professional and academic qualifications for the customer.
We always observe the formal requirements of the respective federal state.
Frequently asked questions - IT professionals
Below you will find the most frequently asked questions about IT professionals. A list of the most frequently asked questions on general topics relating to our projects can be found here…
What training do the candidates have?
Education is a top priority in many European countries. Regardless of whether it's a degree or training. The quality of our candidates is very high!
We look for the right profiles for your jobs. Various training programmes can therefore be considered.
Do professional qualifications have to be recognised?
It all depends on the job. We will be happy to advise you!
If required, we accompany the recognition process from A to Z. This starts with collecting all the necessary documents from the applicants and preparing them so that they can be used for recognition in Germany.
Do the candidates have practical experience?
In most countries, degree programmes and school-based training courses include practical phases.
Wie hoch ist die Abbruchquote bei Spanier:innen?
Die Abbrecherquote liegt bei ca. 10 Prozent nach einem Jahr – wobei die wenigen Abbrüche in der Regel früh passieren. Wir vereinbaren mit unseren Kunden regelmäßige Austauschtreffen, um aufkommende Probleme rechtzeitig zu erkennen und gegenzusteuern. Dadurch lassen sie die Quoten sogar noch senken.
Recruit IT professional - your contacts
Find out more about our recruitment projects for IT professionals or other professions and benefit from our fast project realisation.
Just get in touch with us!