Are you looking for a stable job in your dream profession? Then you should get in touch with us. We will find the right job for you.
There is a great shortage of IT experts in Germany. Many companies are unable to fill vacancies and grow.
They are looking for
Programmers
Web designers
Developers
System Administrators
and other profiles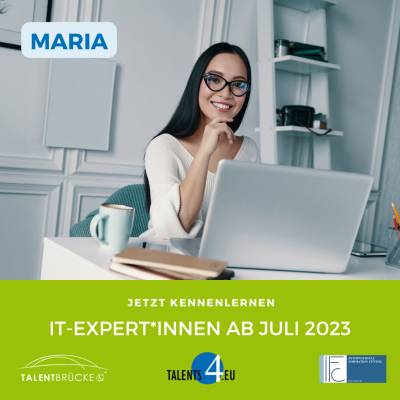 Working as an IT Expert in Germany
We have been placing employees in stable jobs in Germany for many years. Since 2022, we have been working with another partner in the placement of IT experts. Camü Consultung has been placing IT experts for 20 years!
What can we offer you?
A free language course in Madrid to bring you up to B2 level
Special preparation for life in Germany
We suggest good employers and you choose who you want to talk to.
We help you with the recognition of your education in Germany (if necessary)
Of course, we are always available to answer your questions and help you to settle in Germany.
What do you need to bring with you?
An apprenticeship or degree in the IT field
A convincing CV that shows the areas you are familiar with
Willingness to come to Madrid to learn German
The will to go abroad!
Just fill out our form with your CV
and we will contact you!
Regular information events and selection procedures
We will inform you regularly about our current projects. Enter your details and we will send you a link to our next information event.
The next step is to get to know us personally in a selection process. Together we will find out if we can offer you what you want.
Frequently asked questions
Why are IT experts needed in Germany?
Many companies cannot find enough experts in the IT field. In order to grow, they need employees from other countries.
Which conditions do I have to meet in order to participate in this project?
Which conditions do I have to meet in order to participate in this project?
A completed apprenticeship or university degree. It is also important that we learn about your exact background. A comprehensive CV is therefore important.
What do I need to be able to work in Germany?
As an EU citizen, you can work in Germany at any time.
There are a few bureaucratic things that are important, and we are happy to help you with them. For example, you need health insurance in Germany.
Do I have to know German to work in Germany?
It is very advantageous to have a basic knowledge of German. In some jobs, English will be sufficient, but among colleagues, communication is usually in German. You will also need a basic knowledge of German in your daily life. Therefore, a language and preparation course is part of the programme.
What will the project cost me? Nothing?
The language and preparation course and the placement are free of charge.
You will have living expenses during the language and preparation course in Madrid.