The shortage of skilled workers is also omnipresent in the IT environment. Many companies find it difficult to adequately fill vacancies. In addition, skilled workers are constantly being poached.
We will find the right skilled workers for you! In Spain!
Programmers
Web designers
Developers
System Administrators
Consultants
etc.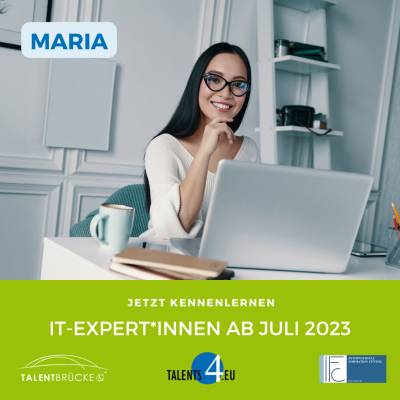 Together with our partner camü consulting we analyse your needs and find your future employees! Benefit from 20 years of experience in recruiting!
Through contacts in various universities in Madrid and networks throughout Spain, we address a large number of interested parties in the shortest possible time.
The training and degree programmes in Spain are of a very high standard. As a rule, the graduates already speak very good English.  They learn German with us!
Selection procedure increases probability of success
Through a selection process developed by TALENTBRÜCKE GmbH & Co. KG, the applicants are tested. In addition to professional qualities, the focus is placed on personality traits.
Of course, future employers can be present in person or online at any point in the selection process.
The aim of the selection process is to find out which of the applicants will actually be successful in Germany.
The expectations of the TALENTBRÜCKE staff and the International Formation Center regarding the quality of the participants have often been exceeded in past projects.
Translation of all documents
Of course, we also translate job advertisements, applications, certificates and other documents – if necessary by sworn translators.
Language and preparation course
The next step for the participants is a language and preparation course at the International Formation Center. Over a period of 4-6 months, they are prepared for their new phase in life.
The course consists of 550 to 800 teaching units and teaches the language level B1 or B2. All participants will take a telc examination at the end of the course.
In addition to language skills, there will also be cultural preparation. All language content is adapted to suit everyday life and job-related requirements.
Accompanying the recognition of vocational and academic qualifications
Upon request, TALENTBRÜCKE will handle all the necessary formalities for the recognition of foreign vocational and academic qualifications for the client. 
We always observe the formal requirements of the respective federal state.
Frequently asked questions
Below you will find the most frequently asked questions about IT experts. A list of the most frequently asked questions about general topics of our projects can be found here…
What kind of education do the Spanish people bring with them?
Education is very important in Spain. It doesn't matter whether it's a degree or an apprenticeship. The quality is very high!
We look for the right profiles for your jobs. This means that different types of education can be considered.
Do professional qualifications have to be recognised?
That depends on the job. We will be happy to advise you!
If necessary, we will accompany the recognition process from A to Z. This starts with collecting all the necessary documents from the applicants and preparing them so that they can be used for recognition in Germany.
Do the Spaniards bring practical experience with them?
Courses of study and school-based training in Spain generally include practical phases.
What is the drop-out rate among Spaniards?
The dropout rate is about 10 percent after one year - although the few dropouts usually happen early. We arrange regular exchange meetings with our clients to identify emerging problems in time and take countermeasures. This helps to reduce the rates even more.
Recruiting IT experts - your contact person
Find out more about our recruitment projects for IT experts or other professions and benefit from our fast project implementation.
Simply get in touch with us!